Whilst I have been setting this up, I have seen so many different theories of what counts as someone online, what doesn't count, what might count etc, that I thought it would be a good idea to make this as simple for everyone as possible.
We know that a lot of people will be using the time around the event to play the other online games they need. However, PEOPLE PLAYING ONLINE GAMES DON'T COUNT – YOU NEED TO BE IN A LOBBY ROOM. So please, during the time, stay in a lobby. If you go into a game, not only could we potentially lose some people towards the total- but you may not get your achievement either.
How To Get Into a Lobby.
I know this sounds dumb, but people have been asking the question, so I may as well explain it. This is the easiest way for you to know you're in the right place.
When NBA Live 07 loads, Press Start and go to Xbox Live.
From here, select Game Modes.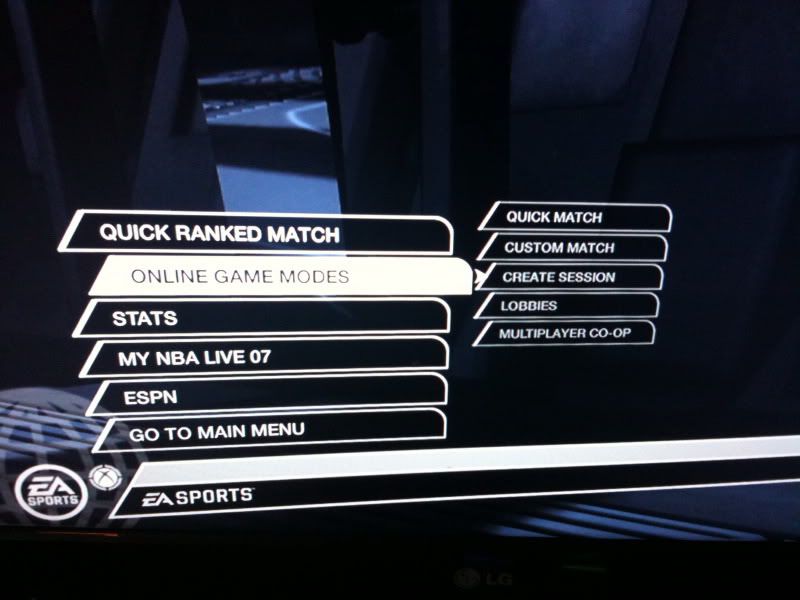 Then Lobbies.
You will see a list of Game Rooms. The generic EA ones are at the top, and on the day we will have x360a ones set up (should be in the region of 15 of them). Pick an x360a one, or another one if you can't get in....then sit back, relax and wait for the unlocking!
Controllers
A lot of people believe that you can have 4 accounts signed in on 4 controllers and that counts as 4 people online. THIS IS NOT TRUE. The developers have confirmed that only one account per xbox will register as online. This has been tested by us, and appears to be accurate. Please note- whilst everything certainly appears that having 4 accounts plugged in on one xbox doesn't work, if you have more than one controller, by all means plug it in just in case the developers got it wrong or anything. Highly doubtful, but if it turns out to work and we get 4000 people online, we're laughing!
So to clarify – multiple Xboxes with multiple accounts works, but as far as we know the most accounts per xbox at a time in one.
Site Awards
On the day there will be multiple x360a rooms hosted. These are the best places to be if you want site awards
. First of all, any current member that unlocks the achievement on this day will qualify for the NEW site award for NBA Live 07. If you are in an x360a room, the 'Room Leader' will be making notes of gamertags in their room. Please let them know your forum name as well, as this will speed the process up (remember, we could potentially have over 1000 awards to give out here so it may take some time
). Now, we will also give the award to people that showed up for our first attempt. Now obviously we can't check your achievement time for this, so you will HAVE to be in an x360a room and give the leader your gamertag and forum name to qualify. If we don't see you on their list, we can't give the award. Now, we also want to have this event running for an hour to give as many people the chance to get it as possible. So once the room leaders have taken down names at the start, they will also be checking these off at the end of the hour. Anyone that stays will be entered into a prize draw. These obviously only apply to x360a members signed up before the event. And because we're nice, anyone with both NBA Live Awards will be entered into a separate prize draw as a thank you for supporting the community.
Now all that is left for you to do is tell everyone you know, and then show up! And then wait for the magical sound as you unlock one of the most elusive achievements out there!
AND REMEMBER - PLEASE LOG ON FOR THE HOUR so we give as many people as possible this achievement
. And just in case your forgot, the start times are:
7PM: Central Europe (GMT +1)
6PM: UK (GMT)
1PM: US Eastern (GMT -5)
Noon: US Central (GMT -6)
11AM : US Mountain (GMT -7)
10AM : US Western (GMT -8)
Room Information
The following gamertags will be hosting the official x360a rooms. These are the ones people should be aiming to fill first, and these will be the ones you MUST be in if you are helping out after getting the achievement in 2007 (so we can give you the award).
Minty x360a
Webb x360a
Krazie x360a
Creech x360a
CoraPrincesses (Creech's weekend account. Don't ask
)
Jackanape
Roxy x360a
Cru x360a
Hippacrocapig
(Genesis x360a)
Gackt x360a
Filter x360a
Cacky x360a
Matt x360a
Bishop024
Gooner Keano
Dakisbac x360a
Method x360a
Steve50013
Bplayak
Pashos x360a
The rooms will be named 'x360a Minty', 'x360a Webb' etc. If you go in one where the name doesn't match up, or the gamertag isn't on the list above, it is not an official x360a one
Please send the host of your room a private message on through the site which includes your gamertag. If you already have the achievement from the last attempt, please let them know so they can enter you in the prize draw as well
The rooms will all be open an hour before hand, some will be open longer (I will set mine up at least three hours before). Then all you have to do is sit back and wait for the achievement to pop
.
PLEASE REMEMBER TO STAY FOR AN HOUR AFTER THE START SO WE CAN GET THE ACHIEVEMENT FOR AS MANY PEOPLE AS POSSIBLE!!
EDIT:
Now to all those asking about pads going to sleep - I have no way of knowing unfortunately. I would recommend you don't let it happen to be safe. So please make sure you use a wired/wireless on plug and play to ensure batteries don't run out. Also, when you have made it into the lobby, move your
to one side, and then secure it with a rubber band. This should stop you going idle.
Like I said, going idle may have no effect...but you don't want to risk not counting towards the 1000 or getting the achievement
EDIT 2
It's game day people! 4.5 hours to go, and we have 130 people online already. Just a note on the lobbies- it only shows 1 custom lobby on the list, which is Cru x360a. Go down to this one and then you can scroll left/right to find the rest of the x360a lobbies. See you in there!