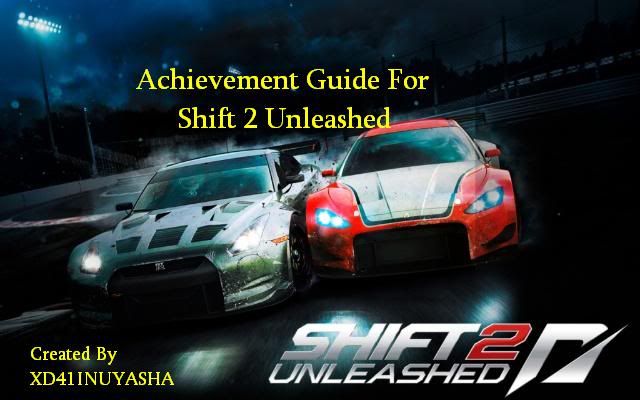 Created By: XD41INUYASHA
Thanks For your help and ideas:
Icondemned
LeMansFahrer
Sn1gaaaZ
Overview
-Estimated achievement difficulty:
5/10
-Approximate time to 1000G:
30+ hours, depending on skill for master achievement.
-Playthroughs:
1
-Missable achievements:
Yes, Proving grounds
-Does Difficulty affect achievements:
Yes
-Glitchy Achievements:
none so far
-Offline:
32 (930
)
-Online:
8 (70
; In The Zone, I. Am. Iron Man., Intercept & Pursue, Recommended, Paparazzi, I'm Going To Hollywood!, King of the Hill, Notorious)
Introduction
This game is much like the first (aggravating at first), but once u get the hang of things, it will go much easier and be much more enjoyable. Very good upgrading and customization. Alright so the achievements look hard, but in all reality they are easy if you follow my guide. Only reason I even put a 5 for difficulty is because of the 10 hours online achievement, King of the Hill, and the mastering all maps. Time consuming mostly. Alright this is my first guide. I have never made one, but I have great strategy's to help you and saw no guide up. I no my grammar is bad, but I type at a speed of 150 words a min, So i make errors quite often (sorry ahead of time). So I hope this helps.
1. Career
When you start career, remember to win the first tutorial when you are in the GTR. If you are about to lose, dashboard immediately or you will miss your
"proving grounds"
achievement. This game isn't easy, even on easy. If you get stuck, don't stress about it, just move on to another race. The rivals are very difficult, so i would insist doing every race you can besides the rival ones. Just focus on leveling up and earning cash. Then when you have completed everything and are filthy rich. Go back and buy all the fastest cars to help with the rivals. A thing to keep in mind, if the AI are too fast. Use a CRAPPY vehicle, for example: Nissan 240SX for the retro japan, with NO UPGRADES. The slower vehicle you have, the slower vehicle they have, and also for some reason the AI are LOTS easier.
2. Online
Online should be after career, the achievement
"King of The Hill"
is hard! This one cannot be boosted. You have to win 6 matches in a row in
"Driver Duel Championship"
gametype. The reason you should do career first is for the practice, and the fact not as many people will be on 2 weeks from now do to the games aggravation. All the other ones can be boosted either in ranked by finding each-others sessions, or in private.
3 Clean up
By now you should only be missing a few achievements like
" A Drivers Battle"
by using the helmet cam and the
"License"
achievements. Just Follow my steps below for each one, don't worry because none are missable. Over all a 1000
to be proud of.
Amateur 5
Reached Driver Level 5
See
"Veteran"
SEMI PRO 10
Get to level 10
See
"Veteran"
Pro 50
Reached Driver Level 15
See
"Veteran"
Veteran 75
Get to level 20
Alright, you should get this one by the time you finish career or halfway if you got limited edition with the day one double XP. But if you want it fast do this:
Go to Career, then on the 3rd tab select Drifting, go to the
"Amateur League showdown"
and repeat the first stage over and over. You can bank in 2-3k a race.
Road To Glory 10
Beat your First Rival
Just beat your first rival, Its Vaughn Gittin Jr. Its In the Drift option on the 3rd tab, all the way at the bottom. An event called the
"Final Slide"
will ask you to get 20 drift podium finishes before unlocking. There are 4 tracks you will have to do. The last one is annoying. You need to use a fast car like an exotic with works conversion because you need SPEED! On the last turn just drift as long as possible even if it means hitting a wall. That turn will give you a lot of points. Try to get 1st on the first 3 tracks and you can afford 3rd place on the last one.
Proving Grounds 10
Won JRs GTR challenge
The very first race tutorial of the game where you are driving the GTR. You have to win this, so dashboard if you are about to lose.
"Missable"
Recommended 5
Completed an event recommended by a friend
This one can be totally looked over. At the end of a race instead of leaving. It will say to hit the
button to recommend. Recommend to a Friend and have him do the same. The go to your Auto-log, then to recommendations, and then click on it and do it.
Cub Scout 10
Won your first Event Set badge
Self Explanatory, just finish all the events in an Event set. Should be one of your first achievements.
The Drivers Battle 5
Completed an event purely from helmet cam
Alright easy as pie! Quickest way, Go to Drift on 3rd tab, go to
"Drifters Smokem Tour"
, and pick the map
"Miyatomi" (Make sure your in helmet cam!)
. Their are two, make sure you can see the Helmets side. Then do the race and once u finish, Achievement unlocked. But if it doesn't then just replay. Sometimes if you start without already being in the correct cam, it wont unlock.
Dominator 100
Beatin All The Rivals
Vaughn Gittin Jr - Drift Branch
Darren McNamara - Retro Branch
Chris Rado - Time Attack Branch
Vaughn Gittin Jr - Muscle Branch
Jamie Campbell Walter - Modern A Branch
Tommy Milner - Endurance Branch
Patrick Soderlund - FIA GT3 Branch
Mad Mike Whiddett - Works Branch
Jamie Campbell Walter - FIA GT1 Branch
Works Champion 50
Beat Mad Mike Whiddett and won the Works Championship
Level 14/15 tab,
"Works Branch"
Going The Extra Mile 25
Completed 250 Event Objectives
Should already of figured out there are 2-3 extra objectives per race than you can complete. At the start of the race, and at the race menu it will show you them. If you go to Auto-log, then to your profile, it will show you on your right how many event objectives completed that you have so far.
GT3 Champion 50
Beat Patrick Soderlund and won the FIA GT3 European Championship
Level 14/15 tab,
"FIA GT3 Branch"