RISE OF THE GUARDIANS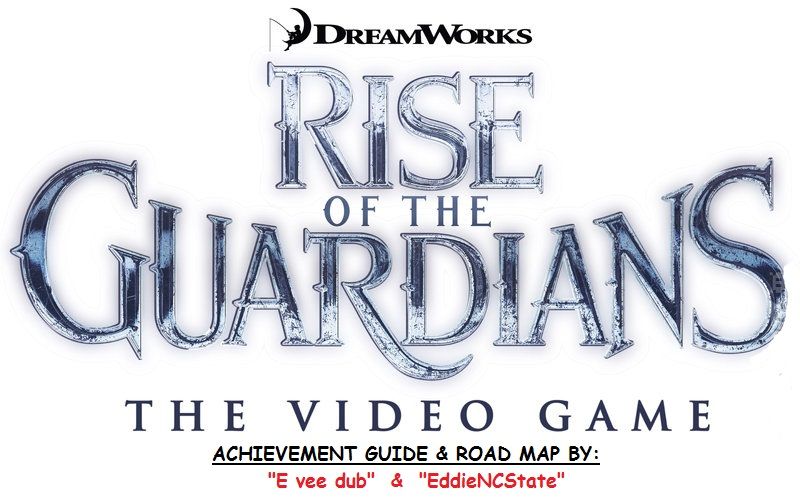 ROADMAP (by E vee dub)

-
Estimated Achievement Difficulty
: 2/10
-
Offline
: 49 of 49 achievements for all 1000
-
Online
: 0
-
Approximate amount of time to 1000/1000
: 7-10 hours
-Minimum Number of playthroughs:
only 1
-
Number of missable achievements
: None, because after the credits roll, you can return to your game to finish cleaning up your map.
-
Do cheat codes disable achievements
? There are no cheat codes known.
-
Does difficulty affect achievements
? There is no difficulty selection.
-
Glitchy achievements
? None have been discovered
Introduction:
"Rise of the Guardians" is a straightforward and easy game to complete for 1000
. The achievements involve discovering areas, collecting items, completing quests, defeating a certain # of enemies and types of enemies, and a 50-point combo.
Walkthrough:
There are 5 realms, each with 5 areas in your map.
Start with the first realm, and clear each area until there's nothing left on your map, then move to the next area.
Your in-game map is highly useful and you should refer to it often. To access your map, press the
button, and press
to see the Legend. Those symbols represent items to pick up and collect, or missions to complete. So no collectible guide is needed as it is provided for you in-game. Sweet!
You can simply look at the map of your current area, and clear it out before moving to the next area. That's pretty much the game and its achievements. The map is so useful, it almost makes this achievement guide just a formality.
Conclusion:

"Rise of the Guardians" is a quick 1000
, and a great game to rent or borrow for 2 days to complete and boost that gamerscore. It's a fun game to play with kids (4-player co-op), and even adults and gamers can appreciate this game for its gameplay and brevity. Enjoy, and congrats on another 1000
.