Thanks to KillerBEA for the banner!
Overview:
Estimated achievement difficulty:
3-5/10 (Depending on skill)
Offline:
6 (100
)
Online:
Approximate amount of time to 100
:
2-4 hours
Minimum number of playthroughs needed:
1
Missable achievements:
5
Does difficulty affect achievements?:
No
Unobtainable/glitched achievements:
Sometimes - To be safe, you will want make sure that this is the ONLY DLC you have installed before you start playing. That means, make sure that Episode 8 and Episode 10 DLC's are not installed.
Extra equipment needed?:
None
Abbreviated Walkthrough
Epsiode 9 brings us pretty much more of the same that the base game brought, with a new costume in Pirate Naughty, a new level and four new challenges. You want to start off by playing through the episode just trying to get to the end. If you can grab gold medals and miscellaneous achievements along the way, thats great. However, be prepared to return to the game to finish them off. Whilst costumes you earnt in the base game may be better, by using the Pirate Naughty costume you can bag four of the miscellaneous achievements on your first run.
After finishing up the main story level, you then have four challenges to undertake. The aim here is to go for gold cups. It's possible, although doubtful that you will get the miscellaneous achievements just by playing through the levels. It's far more likely you will have to specifically aim for each achievement.
DLC: Episode 9: The Treasure of Bear Beard
A Classic Reborn
15
In Episode 9, kill Master Miyagi with the Pirate Naughty costume by the Cutlass Ultra Kill.
Choose Pirate Naughty as your costume, and complete the first area of Episode 9 (the story episode is easier than the challenges for this achievement). Once you have arrived in the second area, you want to silently destroy all escape routes. This means taking out the boat and the car so the bears can't leave. It's very important that you leave the telephones up and running, as you want the bears to call for backup. I would recommend killing as many pirate bears as you can (not the regular bears), as pirates and ninjas hate each other. If Miyagi comes, he will be attacked by pirate bears possibly ruining your chance for the achievement. Once the bears are spooked enough (without going insane), they will run to a phone and call backup. Master Miyagi usually comes in the first wave, but may take longer.
Once Miyagi is present, you need to set him up for an Ultra kill. At this point you can kill any of the regular bears that are getting in your way. Lay a bear trap down, and hopefully Miyagi will step in it. You can always let him see you, then corner trap him (run around a corner and place a trap so as he turns the corner he stands on the trap). Once he's trapped, go behind him and hit
for your Cutlass Ultra kill.
Giant pile of Gold
30
Got Gold Naughty Cups on episode 9 and all of its challenges. Yes, even the Top Hat Challenge!
If you have completed the base games challenges, you will notice two things. They are pretty much identical to the base game, and two, the score requirements make these DLC challenges easier.
Please note, that for this achievement, Platinum Cups do NOT stack. If you earn a platinum, you will have to redo the challenge and get gold. This sometimes is harder than it sounds, as good players get platinum without trying on the Killer and Insanity challenges as you are forced to deal with every bear regardless to finish the challenge.
I'd suggest using Master Miyagi or the Naughticorn as your character.
The scores that are required are approximately :
Main episode - 3,000,000
Killer challenge - 2,750,000
Speed Run challenge - 1,950,000
Insanity challenge - 2,475,000
Top Hat challenge - 3,850,000
As mentioned before, for the Killer and Insanity challenge, you want to make mistakes. If you do a flawless run, you'll end up with Platinum which will not help you for the achievement. Drop your combo sometimes, or get spotted/hit a bit.
No treasure here!
15
Secret Mission: In Episode 9 or its Challenges, destroy all the treasure chests.
This can be done on either the main level or the challenge, but I would recommend the main story level. Anyone as a character is a good selection, but for this achievement on its own separate run, Bear Beard is good as the Pirate Bears will leave him be.
There are three areas to the episode, and in the bottom left of your screen will be a checklist showing you how many chests there are, and how many you have destroyed. Just make sure you destroy all of the chests before you leave the episode.
The chests can be well hidden at times, so make sure you check around all corners, behind trees and in the long grass. Feel free to kill every bear in the area, then just spend time checking for the chests. Do not leave until you have a tick on your checklist showing you have destroyed them all.
There are six chests in area 1, eight in area 2 and six in area 3.
Sucky 9
5
In Episode 9, got a total score of 9 points. You suck!
There are a few ways of completing this one, but the idea behind them all is the same. Earn 30 points, then fail the level resulting in a 70% deduction giving you 9 points.
Method 1 - Start 9-2 Speedy Piracy. Collect the bear trap, run into the grass and set it. Walk into the trap five times (until you have 30 points) then let the timer run out. This will give you 9 points.
Method 2 - Start a game as regular Naughty Bear with no hat. Pick up a bear trap, and run into the long grass. Keep setting/walking into it until you die. This will give you 30 points which will get reduced to 9.
Method 3 - Start a game, and let a Pirate Bear spot you. This gives you 30 points, now let him attack you until you die.
The Treasure's Mine!
20
Completed the Ninth Episode.
Simply finish the level entitled Episode 9 - The Treasure of Bear Beard.
Who's laughing now?!
15
Ironic Kill: In Episode 9 or its Challenges, Punish Giggles with the Disco's Toy chest.
Firstly, Giggles is this little cutey-pie :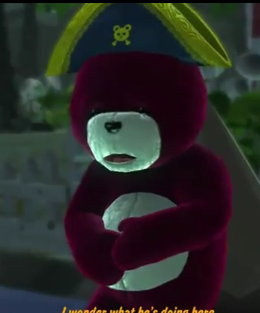 .
You first need to play through the episode (stick to the story episode and not the challenge; its simpler) using Bear Beard. You can use whichever bear you want, but Bear Beard will not be set upon by Pirates, so it can make going for singular achievements like this a bit easier.
Play through the episode until you reach the disco in the third area. At this point, head for the docks. Feel free to kill any and all bears in this area (with the exception of Giggles). You'll notice a blue cabin right next to the pier. Outside the door is a small blue toy chest. You need to sabotage this, and wait for Giggles to come and repair it. Once you have sabotaged it, hide in the long grass nearby. Now it's just a case of patiently waiting for Giggles. The only thing that can ruin your achievement run, is another bear repairing the chest. To avoid this, if you haven't killed them all is to make sure you stay in the grass nearby and do not leave the area. If another bear starts heading towards your chest, panic him so he will run away. As soon as Giggles starts repairing the chest, run up behind him and press
to punish him.
Here is a video showing you what to do -