Achievement Awards 05/06
Welcome to the first annual Achievement Awards brought to you by X360A.org with the backing of OXM UK. The first year of the 360 has been a great one, with many highlights in terms of games, but here, we will be rewarding the time and effort that developers have put in to their achievements. We will look at 25 different categories, ranging from the Easiest Shooter to Future Titles with the Most Potential. We hereby stand to leave no stone unturned, no achievement point missed as we work our way through the categories. The criteria is simple, if we had the achievement list on the main page by 31st October, 2006, it qualified. Unfortunately that left no room for Gears of War, Project 8 and the Christmas rush titles, but thats only going to improve next years standard vastly. People have voted in their thousands for nominations and winners and we can now proudly reveal the results to the world.
Category: Easiest Action 1000GP
So we kick off proceedings this year with one of the more obvious winners. A landslide victory in voting gave Ubisoft's King Kong the award for Easiest 1000 gamer points, with a little bit of resistence coming only from the direction of Open Season. A simple 8 hours of one of the 360's weakest titles will net you an easy 1000 points for your gamerscore. Ubisoft's usual trick of allowing achievements to be received even when using cheat codes, however, was not present in this case as usage made one of the achievements unachieveable. Being one of the earlier titles in the 360's history, this may be somewhat understandable, but nevertheless, it's a painful 1000 points even if it is so short.
Category: Hardest Action 1000GP
Moving on from the insanely easy and moving on to the insanely hard. This one was pretty much a two horse race where Bomberman overtook Dead Rising on the final straight. Dead Rising's 'Frank The Pimp' or the 14 hours in one sitting '7 Day Survivor' was no match for Bomberman's insanely hard achievements. Nobody in the world has 1000 gamer points, in fact, the highest score is currently at 870 and some achievements still remain a secret. Getting achievements that are unknown after countless hours of playing makes this an insane 1000 points. So due to this Hudson's only 360 title takes home the award this year.
Category: Easiest RPG 1000GP
The RPG categories this year suffered a bit due to the lack of actual RPG's released for the 360. There are pretty much only four titles that fell under the genre; Phantasy Star, Enchanted Arms, Final Fantasy and Elder Scrolls: Oblivion. It was Bethesda that took home this years award for easiest 1000 gamer points but that by no means takes anything away from the immersive game. Techinically, the game can be done in 30 hours with all the sliders pushed down to the easiest setting. This is pretty much why we had to give it to Oblivion this year as the other games in this genre could not be done in that sort of time frame. Although, when playing the game in its true spirit, 1000 points can be achieved in 100 hours, so really, only the achievement point fanatics will be using the sliders in this game. Congrats either way on a fantastic game.
Category: Hardest RPG 1000GP
This was another one horse race. It's like pitting a horse dosed up to the eyes on steroids against a three legged donkey. Final Fantasy XI is that far ahead of the pack on this front that they are not even specks in the distance. In order to get a character to level 75 in this game takes plenty of dedication, bucket loads of motivation and an active party to travel with.... Oh and about 3 months of solid playing. Now rinse and repeat another 17 times and you should be closing in on your 1000 points. The 360's first MMORPG really is a mammoth game that could possibly not see someone with 1000 gamer points in it by next year. Even at present time, the leading points scorer in this title has 590 points. Congrats Square Enix on creating a game where achievement point hunting really could consume your life.
Category: Easiest Racing 1000GP
Next up is the racing genre. This was not so much a tough genre to go through, but there were certain questions asked. In the nomination phase, there were so many nominations for Cars that it would be plain rude of us not to include it in the category. Then in the voting stages, it suprised no-one and was a landslide winner. In discussion we went back to the discussion about whether it could technically be classed as a racing game, after countless minutes of deliberation, we came to the conlusion that you controlled a car and had to win races. What more do you want from a racing game? How about a postcard hunt thrown in? Cars is on to a winner. Commiserations go out to Need For Speed: Most Wanted that would have scooped the award if we had not have decided on Cars.
Category: Hardest Racing 1000GP
Possibly one of the toughest categories to call as a lot of the racing games on the 360 have some insane driving achievements. In the end it was narrowed down to two of the kingpins of the genre, Project Gotham 3 and Ridge Racer 6. The public were split on this right down to the last vote. In the end, it became more of a battle of one individual achievement. The notorious 'Tournament Qualifier' of Project Gotham against the even more notorious 'No Crash Victory: Single Races' achievement of Ridge Racer. The battle went to the wire, but due to the non forgiving and sometimes ridiculous opponent AI, the honours were given to Ridge Racer 6.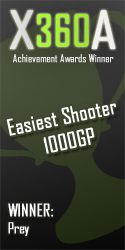 Category: Easiest Shooter 1000GP
This category turned out to be one with not many runners for simple fact that the shooters released on the 360 to date have tended to have harder lists to get. There were however 3 nominated, Prey, Call of Duty 2 and Cabela's Alaskan Adventure. Prey and Call of Duty were the two front runners, not sure how Call of Duty got drafted in to it in all honesty, I think the quality of the game overshadowed how hard it really was to play on Veteran. It actually never seemed like a chore which is probably why it got sucked into this category. Prey in the end was the winner by a long shot, I mean whats so hard about a game that gives you achievements as you complete levels and you can infact not die. Sure there was multiplayer achievements, but with the fact the online play was fun, innovative (although a little laggy), the multiplayer achievements could be got in a short amount of time. 250 kills is nothing compared to 10,000, we seemed to have moved to the next level! Either way, Prey was a fun and fairly simple game that picks up this years award.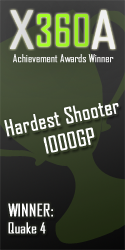 Category: Hardest Shooter 1000GP
Another close category here, all the games running for this award really take possibly 100 hours plus to get even close to 1000, whether it be Ghost Recon with it's ridiculous leaderboard achievements, Chromehounds with it's Valour achievements or Quake with it's out of this world Seasoned Warrior where you get a measley 50 points to play 5,000 matches. Wow! That works out at 0.01 achievement points per game! Quake 4 edged this one in the end after we took in to account Quakes No 1 achievement as well and the ridiculous amounts of boosting that have pretty much taken this achievement to a near impossible level which is a disapointment. So in that respect, Quake 4 takes home all the glory.
Category: Easiest Sporting 1000GP
There were many easy sports titles in the first year of the 360. Some of them easier than others, granted, but with the 5 titles nominated, you could easily get 5 thousand points in about 10 hours! Whether it be the simple task of qualifiying for the World Cup in FIFA 06 grabbing the majority of achievements on the way in a few hours or slipping in NHL 2K6 for a game and if skilled, grabbing most of the achievements, the penalty shot really stops this one winning it outright though. So instead, the overall winner is NBA 2K6 with a landslide amount of votes and making it this years Easiest Sporting 1000GP. The ability to get these all in one game brought this right to the top of the pile. Granted, 2K Games have put more effort in to their recent sports games achievements, they will probably put this down to inexperience with this title.
Category: Hardest Sporting 1000GP
The most contested category during the discussions regarding who would win this one. Firstly Tiger Woods was disqualified from this category due to the fact that EA never bothered to fix some achievements, we were left with a three horse race. Coming in just behind the winner were Rumble Roses with its ridiculuous achievements that can eat up so many dead hours just doing the same thing and Football Manager 06 where the developers thought it would be funny to include a twenty seasons at one club achievement! Ouch! But the award fell in to the laps of the team over at Rockstar with their Table Tennis title. Why you ask? Well, this game is not only a long time consuming game, but to beat the All Star Circuit firstly on default settings and then with every character truely takes a supreme amount of skill in the games and that is why we honoured this title with this award.
Category: Easiest Overall 1000GP
A category that will only result in one winner at the end of the day, not even Fight Night's season achievements, King Kong's painful mission achievements could rival the ease of NBA 2K6. This is our first double award winner of the year, so congratulations to 2K Sports who take home the prize of Easiest Sporting 1000GP and Easiest Overall 1000GP. I'm sure the developers will be putting this on above the fireplace when they find out. But on a serious note, it is a welcome change for developers and publishers to take notice of the fans of games when they asked for more of a challenge. This is definitely demonstrated in their new release this year and so we tip our hats to them.
Category: Hardest Overall 1000GP
A category full of 5 incredibly time consuming and tough titles. 5 games that would break even the best of us. Completing any of the 5 games nominated by getting the full 1k is a mean feat in itself. The nominations contained such titles as Bomberman, Saints Row, Rockstar's Table Tennis, Chromehounds and Final Fantasy is enough to make the best of us go insane. Would the award go to Bomberman with its incomplete list of achievements, Chromehounds and its ridiculous Valour achievements? How about the life consuming Final Fantasy or Rockstars need for patience and skill in their Table Tennis title. We opted to give the award to Final Fantasy basically on which game would see their 1k broken first. We are yet to see anyone in the same league of points in Final Fantasy as people have in Bomberman, so on that note, congrats Square Enix on your second award. Congrats on pushing the extent of achievements to a level where getting one on your game is a truely impressive effort.
Category: Easiest Arcade 200GP
On to the arcade titles we move, starting off with the Easiest Arcade title of the year. There were many put up for nomination as some of the games require little effort to net yourself 200 points. Whether it be Pacman, Cloning Clyde, Galaga or Uno. Pacman fell at the first hurdle, more than likely due to the 'Perfect' achievement and Cloning Clyde was the next to go and on the final straight, the public decided that Uno was an easier 200 than Galaga. So it appears that the fun family card game takes the honours this year with its strangely addictive yet fun arcade title.
Category: Hardest Arcade 200GP
Clash of the hardmen this. Four titles came to the top of the pile when this one put up to the public vote. First there was Robotron with rewarding the gamer with an achievement for surviving some impossible waves, then there was Bejeweled with its endless game modes, the cult favourite Geometry Wars where players keep aiming to beat that million mark and last but not least we Hexic HD which carries with it the elusive 'Grand Pearl Pooh-Bah' which takes skill and patience to get, truely an achievement to behold and definite bragging rights. After weighing up the difficulty of the games, we decided that it would only be fair to give it Bejeweled 2, why you ask? The simple fact that ever since launch this game has only had 11, thats right, 11 people get the full 200, proving it's worth as the Hardest Arcade 200GP of 06/07.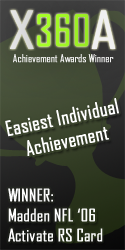 Category: Easiest Individual Achievement
2006 was the year of the easy achievement, it's been that bad that developers are rewarding people for one simple click of a button. Surely thats hardly worth an achievement, maybe the word needs to be rethought and researched in certain camps, nevertheless, we now switch the focus to individual achievements for a short while. In the running this year we got rewarded for a haircut in Tony Hawks Wasteland, for entering the History Books in Madden 06 and for Activating the RS Card in Madden 06 again. The complete training on Call of Duty 2 was mentioned as well as it is fairly simple and worth 50 points as well, we decided against that as it is a damn sight harder than clicking in the right analogue stick, so this year, the Easiest Achievement falls in to EA's hands for the over exerting Activate RS Card.
Category: Hardest Individual Achievement
Battle of the hardcore achievements where only the big boys may participate. You see any of these on anyone's gamercard and it is known straight away that they had a real dedication to getting this one. Whether it be the dreaded Complete All Scenario's on FIFA World Cup, 20 Seasons at One Club on Football Manager, the dreaded Savant on Rockstar's Table Tennis, Tiger's daily tournament win namely titled King of The Hill or last but not least Quake's Number One, these are all mean, intense achievements which truely take the word achievement to another level. For these, the gamer has probably been dragged through hell and back just to get this on their virtual card. For this award, we look at the skill involved in each achievement and assess it that way. We decided to discard Quake's effort simply because boosting has taken this achievement to a level where it is no longer down to skill which left us with no choice as to a winner. Tiger's King of The Hill takes home this years award as people who have played the game realise that in order to get this achievement you have to be shooting a round in the region of 40 to stand a chance of winning, not even Tiger himself could do that! So congrats to EA on pushing the boundaries of golf.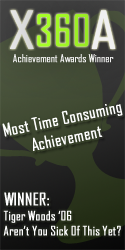 Category: Most Time Consuming Achievement
Battle of the hours this one. Which one achievement takes longer than any other up to date, not necessarily the hardest. This achievement turned in to more of a maths class as we sat and deliberated the amount of hours for each achievement took. Whether it be the 200 hours of 20 Seasons At One Club for Football Manager or the countless hours of attempting the No Crash Victory: Single Races on Ridge Racer 6 which was quickly thrown out of the window as it was really dependent on skill and luck. The battle fell down to two of the giants, Quake 4's Seasoned Warrior and Tiger Wood's aptly named, Aren't You Sick Of This Yet? The best way to look at it was logically, a game of Quake takes approximately 4 mins, 2 loading and 2 playing if played on the lowest possible settings and a game of Tiger can take anywhere in the excess of 20 mins depending on the player skill, I mean, if you are playing against someone who has never played before, it could take all night. So your looking at 20,000 mins of Quake against that and some more for Tiger, so on that basis, we decided to give the award to Tiger Woods.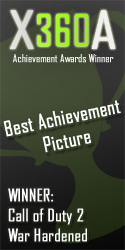 Category: Best Looking Achievement Picture
Now comes the battle of the artists as we reward the best achievement title. The nominees
As you can tell it was a closely fought award as all 5 pieces of art are all impressive pieces. It did however fall in to a two horse race between Dead Rising's Lego head and Call of Duty 2's War Hardened achievement. It was a toss up between Lego and blood which go together like salt and vinegar or the exhausted, drained soldier that has just won the war... On veteran too! For the simple power and emotion that the picture represents, Call of Duty 2 picks up its first, but deserved Achievement Award.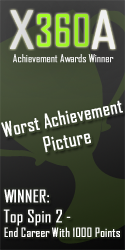 Category: Worst Looking Achievement Picture
Now swiftly on to the battle of the wannabe artists who obviously have a long way to go
This was a closely contested battle, some people weren't a fan of EA's effortless trophy or of Enchanted Arms hideous medallion. But the real battle fell down to two pictures. It was Rockstar and it's line to 2K Sports and its 10k in a box. This is where it gets amusing and is clear who the winner is, because not only is it ugly as sin, but the fact that 10k is there to represent 1,000 career points is an unforgiving mistake, so 2K Sports can take home this gong.
Category: Most Original Achievement
There is nothing like a bit of originality to spice up an achievement now and then and we will reward developers when they thrust this originality upon us. There were some great nominees, whether it be playing retro games aboard the mothership on Prey, kill the population of a small town's worth of zombies in Dead Rising or even bowling a ball and knocking ten of them over. They are each in their own original and commendable achievements but the award this year will go to Ghost Recon and it's viral achievement, Assassin. The criteria of this achievement is simple, kill whoever has this achievement to get the achievement yourself, an achievement that will spread like a forest fire. Just picture the stir it creates in the lobbies before you fired up the game, 'Oh look, that dude has the Assassin achievement', 'oh yeah, I want me some of that.' Next thing you know, ingame, the person with that achievement kinda wishes he never got it while being chased down by 6 or so other players from across the world. Classic moment.
Category: Game With Most Glitched Achievements
Not a good award to give out, but someones got to take it home. This will be given to the game which simply has so many glitched achievements it makes the Halo 2 online glitchers look like amateurs. Nominations include Just Cause's pop up when least expected achievements, Over G fighters and its crash when I receive an achievement glitch, Perfect Dark's kills not counting glitch and last but not least once more is Tiger Woods and it's never gets fixed achievement glitch. By a landslide it was Tiger Woods on this front. The game itself carries at least two achievements that still to this day remain unfixed and are unobtainable, not only that, but there have been countless occassions of stories of people not being able to get birdie and eagle achievements. Add to that early problems with the servers and people learning of glitches where you could steal all the money off your opponent. The Tiger Woods 06 experience was a little under handed at times although still fun to play online. A proper Jeckel and Hyde complexion is shown in this title.
Category: Worst Company for Achievements
A small mention must be made regarding people's dislike for Ubisofts cheating and earning achievements landed them a few votes and a few people weren't able to forgive Konami for the Rumble Roses set of achievements but all in all this category was extremely one sided. A landslide category if there ever was one, in excess of 80% voting in favour of EA. The reason seems to be the lack of effort and originality in their achievements. The fact that their achievements were of two totally different extreme's, either incredibly easy like the Activate RS Card in Madden '06 to the incredibly hard like Complete All Scenario's in FIFA World Cup. If I had a pound for every time I heard the phrase "Damn those Solomon Islands" or "Sweden vs. Brazil, are EA having a laugh?" I could buy probably buy the Solomon Islands! Tiger Woods was the nail in the coffin for a lot of people, the extreme play 1000 online games and the glitched achievements didn't please the general public. It only seemed to be the sports titles however as other titles from EA were commendable. So commiserations to EA this year, lets hope they lose this stigma for next year.
Category: Best Company for Achievements
A tight category this year seperated by a handful of votes.Capcom were right up there at the top with their originality in Dead Rising but lost points when it came to 50 achievements all carrying the same amount of points. The fact that you get 20 points for killing 1,000 zombies and that same amount for killing 53,000 seems a little unfair to be honest. Add to that the save points and the 14 hour in one burst achievement, it slipped down beneath the pack. Following closely was Activision boasting Call of Duty 2 as their commendable set of achievements, challenging yet extremely achieveable made a welcome change and 2K were mentioned with similar sets shown in Amped 3 and Oblivion. But it was underdog Eidos that takes home the final coveted prize this year. This is simply because you look at their track record this year and the well balanced set of achievement lists in Hitman: Blood Money, Tombraider: Legend and Just Cause. A challenge, but not pushing the boundaries of human patience. A fine job all round. Congratulations Eidos, more of the same next year please.
Category: Anti Game Save Award
Officially dubbed the "X360A" award, this award is everything the site stands for, truely embracing the word "Achievement". This will be given out to the game we believe that has such a system of achievements in the game where it is impossible to be able to do the lazy thing of uploading and trading of game saves for the purpose of boosting your gamerscore. Credit must be given to the runners up in this category for their efforts. This goes in the way of Capcom for their survivor achievements, due to the fact if people have those on their cards then credit goes to the 14 hours they spent foraging for food. Then credit must also go to EA, whose Tiger 06 achievements, which have come under a little criticism, get recognised in a positive light as players with these clearly show the skill of the player as all the achievements are online. But to top all the actions of these previously, we have Test Drive Unlimited, an unexpected hit of last year that had an ingenious save system that was impossible to exploit. Alas, the word achievement could be embraced once more. Congratulations to Atari and the people over at Eden Studios for setting the standard.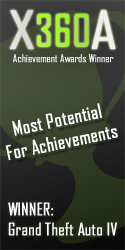 Category: Game With Most Potential For Achievements
Last but not least, we keep one eye on the upcoming achievement lists that remain unknown to us at the moment. The admins over at X360A have their eyes on a little title called Alan Wake, but that failed to stir the masses. Instead they seemed to follow their hearts and shout Halo 3 at the top of their voices. First person shooters though hardly have any potential, hopefully Bungie can shock us. Apart from multiplayer weapon achievments and a few single player achievements, I'm sure we won't be shocked. Attention shifts to the likes of Mass Effect with huge total immersive galaxies that have endless possibilites. But this years final award of the year falls into the hands of Rockstar and their much anticipated title Grand Theft Auto IV. We over at X360A believe that with the great minds behind previous installments of this series, we could be looking at a very entertaining achievement list. With the scale of the world and the humour that is usually present in a GTA title, the achievement list we get later on this year has us licking our lips.
That brings to an end the Achievement Awards this year. We'd like to thank OXM UK for covering the Awards and giving the community that voted for them the recognition they deserve. Please stick around for next year as we are sure that the Awards will be 10 times as popular and 10 times as entertaining. Don't forget to stop by and vote next year if you want to shape the results of such a prestigious event.
© X360A.org This may not be reproduced unless prior permission has been given by XBox360Achievements.org
Written by DaWebbmeister
---
---