Rockstar has released GTA Online's Capture Creator and it is available to download now.
Players can now make their own unique Capture Jobs - choosing pick-up locations, weaponry choices, locations and a whole bunch of other variables. For those looking for a bit of help, Rockstar has also released a guide, which you can download here.
As an incentive to get players involved this weekend, Rockstar is holding a Capture Weekend Rewards event, in which four Capture Job creators will be given the opportunity to nab $GTA1,000,000 and an in-game CAPTURE license plate.
"The four official selections will also join the hallowed ranks of Rockstar Verified Jobs and be invited to join us on a future Rockstar Games live broadcast on Twitch to play through and talk about their creations," explains the studio.
Plus, in addition to all this, Rockstar has extended the 2X GTA$ and RP event for all players until the end of Sunday, April 20th. It was originally intended to end today.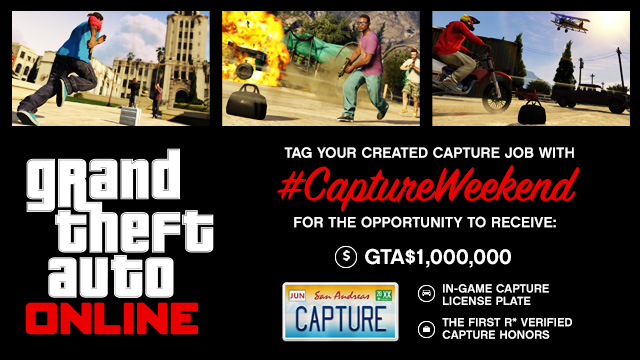 ---
---