Army of Two Comic Book #1 In Stores Today

Written

Wednesday, January 13, 2010

By

Alan Pettit

View author's profile
The first issue of a new ongoing series hits shelves today; the 32 page comic will retail for $3.99 from IDW Publishing. It is written by comics veteran Peter Milligan (everything from X-Men to Batman to Sub-Mariner) and illustrated by Dexter Soy (Hack/Slash and Spartacus: Blood and Sand). Issue number one features a cover by Photoshop extraordinaire Chester Ocampo.
For some preview pages, head here courtesy of IGN. To find a comic shop near you, head here.
"Coinciding with the release Army of Two: The 40th Day, this new ongoing monthly series follows ex-Army Rangers Salem and Rios as they form their own Private Military Corporation: Trans World Operations. But the pair get more than they bargained for as they are unexpectedly caught in a brewing war between the Mexican Army, drug cartels, and The Maras-one of the most powerful street gangs in Mexico!"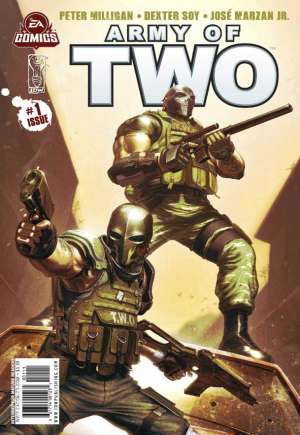 ---
---